Product Description
Zimmer Spine's Fortitude Vue Vertebral Body Replacement gives you a synthetic implant with advantages similar to bone. Manufactured from PEEK-OPTIMA* Polymer, this device allows for radiographic assessments of placement and fusion in your patients. The Fortitude Vue Implant is also available in two options: tapered to facilitate sagittal alignment or convex for excellent surface contact with your graft bed. As a PEEK-OPTIMA device, the Fortitude Vue Implant offers a modulus of elasticity that is similar to bone.
Features
PEEK-OPTIMA material for radiolucency
Lordotic angle to facilitate sagittal alignment
Textured surfaces to resist migration
Open geometry to offer large capacity for graft placement
Available in both tapered and convex design
*PEEK-OPTIMA® Polymer is a registered trademark of Invibio Ltd.
ZS-SA0700-09_A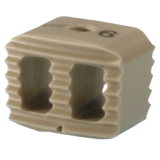 Device Description
Fortitude Vue features two hollow canals in the center with texture on the caudal and cephalad surfaces. The device is crafted from PEEK-OPTIMA® (Polyaryletheretherketone, ASTM F2026) with Tantalum radiographic markers, and is offered in convex and tapered styles of various sizes. Fortitude Vue is intended to be used with the Zimmer Spine Fortitude or Tempo® Instrumentation Systems. Instruments are intended to assist in sizing and placement of Fortitude Implants. The instruments can be used to measure the height of the disc space, prepare the surgical site and insert the implantable device. The Fortitude and Tempo Instrument Systems contain a set of trials and rasps in various heights. The trials are offered in a tapered or convex configuration to measure the height of the vertebral disc space.
Indications
Fortitude Vue is a vertebral body replacement device that is intended for use in the thoracic and/or thoracolumbar spine (T3 - L5) to replace a collapsed, damaged or unstable vertebral body resected or excised (i.e., partial or total vertebrectomy procedures) due to tumor or trauma (i.e., fracture). Fortitude Vue is designed to restore the biomechanical integrity of the anterior, middle and posterior spinal column even in the absence of fusion for a prolonged period. Fortitude Vue is intended to be used with bone graft.
Contraindications
Do not use 
Fortitude 
Vue, the 
Fortitude 
Instrumentation System, or the 
Tempo 
Instrumenation System in the presence of any contraindication.
Disease conditions which have been shown to be safely and predictably managed without the use of internal fixation devices are relative contraindications to the use of these devices.
Active systemic infection or infection localized to the site of the proposed implantation are contraindications to implantation.
Severe osteoporosis is a relative contraindication because it may prevent adequate fixation of spinal anchors and thus preclude the use of this or any other posterior spinal instrumentation system.
Any entity or condition that totally precludes the possibility of fusion, i.e. cancer, kidney dialysis or osteopenia, is a relative contraindication. Other relative contraindications include obesity, pregnancy, certain degenerative disease, and foreign body sensitivity. In addition, the patient's occupation or activity level or mental capacity may be relative contraindications to this surgery. Specifically, some patients may, because of their occupation or lifestyle, or because of conditions such as mental illness, alcoholism or drug abuse, place undue stresses on the implant.
Known patient sensitivity to device materials (PEEK-OPTIMA).
When used without posterior fixation, the device should only be used for Grade 1 or less spondylolisthesis or retrolisthesis.
Warnings
Following are specific warnings, precautions, and adverse effects, which should be understood by the surgeon and explained to the patients. These warnings do not include all adverse effects, which can occur with surgery in general, but are important considerations particular to metallic internal fixation devices. General surgical risks should be explained to the patient prior to surgery.
THE SAFETY AND EFFECTIVENESS OF INTERBODY FUSION HAS BEEN ESTABLISHED ONLY FOR SPINAL CONDITIONS WITH SIGNIFICANT MECHANICAL INSTABILITY OR DEFORMITY REQUIRING FUSION WITH INSTRUMENTATION. These conditions are significant mechanical instability secondary to degenerative spondylolisthesis with objective evidence of neurologic impairment, fracture, dislocation, scoliosis, kyphosis, spinal tumor and failed previous fusion (pseudarthrosis). The safety and effectiveness of these devices for any other conditions is unknown. (APPLICABLE ONLY TO INDICATIONS OUTSIDE THE UNITED STATES).
Potential risks identified with the use of this device system, which may require additional surgery, include:

a. Device component fracture.
b. Loss of fixation.
c. Non-union.
d. Fracture of the vertebra.
e. Neurological injury.
f. Vascular or visceral injury.

CORRECT SELECTION OF THE IMPLANT IS EXTREMELY IMPORTANT. The potential for satisfactory fixation is increased by the selection of the proper size, shape and design of the implant. While proper selection can help minimize risks, the size and shape of human bones present limitations on the size, shape, and strength of implants. Implants height should be determined such that adequate decompression and stability are imparted to the instrumented segment.
THE NEED FOR SUPPLEMENTAL FIXATION MUST BE DETERMINED BY THE SURGEON BASED UPON THE AMOUNT OF INSTABILITY IMPARTED BY THE SURGERY, AS WELL AS THE PATHOLOGY ITSELF. (APPLICABLE ONLY TO INDICATIONS OUTSIDE THE UNITED STATES).
IMPLANTS CAN BREAK WHEN SUBJECTED TO THE INCREASED LOADING ASSOCIATED WITH DELAYED UNION OR NON-UNION. Internal fixation appliances are load sharing devices which are used to obtain an alignment until normal healing occurs. If healing is delayed or does not occur, the implant may eventually break due to fatigue. The degree or success of union, loads produced by weight bearing, and activity levels will, among other conditions, dictate the longevity of the implant. Notches, scratches or bending of the implant during the course of surgery may also contribute to early failure. Patients should be fully informed of the risks of implant failure.
PATIENT SELECTION. In selecting patients for internal fixation devices, the following factors can be of extreme importance to the eventual success of the procedure:

The patient's weight. An overweight or obese patient can produce loads on the device that can lead to a loss of interbody height or failure of the device and/or the operation.
The patient's occupation or activity. If the patient is involved in an occupation or activity that includes substantial walking, running, lifting or muscle strain, the resultant forces can cause loss of disc height and/or failure of the device.
A condition of senility, mental illness, alcoholism, or drug abuse. These conditions, among others, may cause the patient to ignore certain necessary limitations and precautions in the use of the appliance, leading to implant failure or other complications.
Certain degenerative diseases. In some cases, the progression of degenerative disease may be so advanced at the time of implantation that it may substantially decrease the expected useful life of the appliance. For such cases, orthopaedic devices can only be considered a delaying technique or temporary relief.
Foreign body sensitivity. Where material sensitivity is suspected, appropriate tests should be made prior to material selection or implantation.
Smoking. Patients who smoke have been observed to experience higher rates of pseudarthrosis following surgical procedures where bone graft is used.

These warnings do not include all adverse effects that can occur with surgery in general. General surgical risks should be explained to the patients prior to surgery.
Do not implant any component of the Tempo or Fortitude Instrumentation Systems. These systems contain instruments only, designed for use with the Fortitude implants.
Precautions
The implantation of spinal systems should be performed only by experienced surgeons with specific training in the use of such a system. This is a technically demanding procedure presenting a risk of serious injury to the patient.
Surgical implants must never be reused. An explanted implant should never be re-implanted. Even though the device appears undamaged, it may have small defects and internal stress patterns that may lead to early breakage. Additional risks associated with re-use of single use devices include:

Mechanical malfunction
Transmission of infectious agents

Correct handling of the implants and instruments is extremely important. These devices should not be bent, scratched, notched, re-shaped, or otherwise modified from their original condition. Implants and instruments should be thoroughly inspected for potential damage prior to use. Alterations will produce defects in surface finish and internal stresses which may become the focal point for eventual breakage of the implant.
If any implant or instrument appears worn or damaged to the point where system functionality may be compromised, please contact your local sales representative, or contact Zimmer Spine customer service.
Adequately instruct the patient. Postoperative care and the patient's ability and willingness to follow instructions are one of the most important aspects of successful bone healing. The patient must be made aware of the limitations of the implant and that physical activity and full weight bearing have been implicated in bending or fracture. The patient should understand that a metallic implant is not as strong as normal, healthy bone and will fracture if excessive demands are placed on it in the absence of complete bone healing. An active, debilitated, or demented patient who cannot properly use weight-supporting devices may be particularly at risk during postoperative rehabilitation.
Possible Adverse Effects
Possible adverse effects associated with general surgery include complications from anesthesia, infection, hematoma and death.
Possible adverse effects associated with laparoscopic surgery include: organ or bowel injury, peritonitis, incisional herniation, damage to blood vessels, hemorrhage, injury to the nervous system and conversion to open procedures.
Possible adverse effects associated with gas insufflation include: hypercarbia, gas embolism, retention of gas in the peritoneum, omentum or viscera or lyphocele formation.
Possible adverse effects associated with spinal surgery include: dural leaks, paralysis (complete or incomplete), sensory loss, loss of bowel and/or bladder control, retrograde ejaculation, failure of the bone to incorporate and scarring of nerve roots.
Possible adverse effects associated with the Fortitude device may include: fracture of another vertebra during placement, device breakage, device migration, material sensitivity or allergic reaction, spinal cord impingement, bone resorption, loss of disc height, soft tissue damage, damage to large blood vessels and pseudoarthrosis.