Product Description
The Minit system is an elegant, low profile cervico-thoracic system that offers unique features that help to improve surgical flow with minimal instrumentation. The Minit system provides a secure top-loading solution for providing rigid posterior fixation of the cervical and upper thoracic spine.
Features
Friction fit screw head helps maintain screw alignment during rod placement
Pre-cut/ pre-bent rod reduce the need for contouring and cutting
Low profile screw design and 3.25mm rod reduce implant prominence against soft tissue
ZS-SA0700-12_A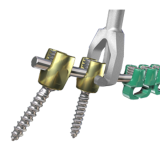 Device Description
The Minit Posterior Cervical and Upper Thoracic Fixation System Implants are intended to be used as a temporary construct that assists in normal healing and are not intended to replace normal body structures. The system is intended to stabilize the spinal operative site during posterior fusion procedures, attaching to the spine by means of hooks and screws joined with spinal rods and should be removed after fusion. The components of the system are manufactured from Titanium that complies with ASTM F136 Standard for Ti 6Al-4V ELI. Refer to the Surgical Technique Manual for additional information on how to use these devices.
Indications
When intended to promote fusion of the cervical spine and the thoracic spine, (C1-T3), the Minit Posterior Cervical and Upper Thoracic Fixation System is indicated for the following: DDD (neck pain of discogenic origin with degeneration of the disc confirmed by history and radiographic studies), spondylolisthesis, spinal stenosis, fracture, dislocation, failed previous fusion and/or tumors. Hooks and Rods The hooks and rods are also intended to provide stabilization to promote fusion following reduction of fracture/dislocation or trauma in the cervical/upper thoracic (C1-T3) spine. Screws/Connectors The use of screws is limited to placement in the T1-T3 in treating thoracic conditions only. Screws are not intended to be placed in the cervical spine. Axial and Offset Rod Connectors The Minit Posterior Cervical and Upper Thoracic Fixation System can also be linked to TiTLE® 2 Poly Axial Spinal Systems offered by Zimmer Spine using the Axial Rod Connectors, Dual Rod Connectors and The Tri Screw Dual Rod Connectors.
Contraindications
Contraindications include but are not limited to:
History of recent infection, systemic, spinal, or localized
Morbid Obesity
Mental Illness
Alcoholism or drug abuse
Fever or Leukocytes
Pregnancy
Metal sensitivity/ allergies to implant materials
Severe Osteopenia
Presence of congenital abnormalities, vague spinal anatomy, tumors, or any other condition which may prevent secure implant screw fixation and/or decrease the useful life of the device
Any condition where the device will interfere with anatomical structures or physiological performance, including inadequate tissue coverage over the operational site
Patients unwilling or unable to follow post-operative care instructions
Any circumstances not described under the heading, INDICATIONS
Warnings
The FDA has placed labeling limitations on this device. This device is not intended for screw attachment or fixation to the posterior elements (pedicles) of the cervical spine.
Potential risks identified with the use of this device system, which may require additional surgery, include: device component fracture, loss of fixation, non-union, fracture of the vertebrae, neurological injury, and vascular or visceral injury.
The implantation of the Minit System should be performed only by experienced spinal surgeons with specific training in the use of cervical-thoracic spinal systems because this is a technically demanding procedure presenting a risk of serious injury to the patient.
This device system is not intended to be the sole means of support. Its use without bone graft or in cases that develop into a non-union will not be successful. No spinal implant can withstand the loads of the body without maturation of a solid fusion mass, and in this case, bending loosening or fracture of the implant will eventually occur.
Precautions
Mixing of dissimilar metals can accelerate the corrosion process. Stainless Steel and Titanium components must NOT be used together in building a construct.
No components of the Minit Posterior Cervical and Upper Thoracic Fixation System should be used with components from any other system or manufacturer, unless otherwise noted in the INDICATIONS section. The Delivery Instrumentation should be used to implant and connect the devices. The use of any other drivers, taps, or other instrumentation may compromise the integrity of the construct.
As with all orthopedic implants, none of the Minit Posterior Cervical and Upper Thoracic Fixation System components should ever be reused under any circumstances.
All implants and some instruments are intended for single use only; refer to the product label to determine if the instrument is intended for single use only. Single use devices should not be re-used. Possible risks associated with re-use of single use devices include:

Mechanical malfunction
Transmission of infectious agents

Torque limiting instrument adjustment screws or caps with set screws should not be manipulated during the cleaning process. Manipulation or disassembly of the instrument will affect the calibration of the instrument and it will require re-calibration prior to use.
Based on the fatigue testing results, the physician/surgeon should consider the levels of implantation, patient weight, patient activity level, and other patient conditions, etc. which may impact the performance of the system.

The proper selection and compliance of the patient will greatly affect the results. Patients who smoke have been shown to have an increased incidence of non-union. These patients should be advised of this fact and warned of the consequences. Other poor candidates for spine fusion include obese, malnourished, poor muscle or bone quality, and nerve paralysis patients.
Possible Adverse Effects
Pre-operatively, the patient should be made aware of the possible adverse effects of spinal implant surgery. Additional surgery may be necessary to correct some of these effects.
Bending, loosening, or fracture of the implants or instruments.
Metal sensitivity to a foreign body, including possible tumor formation.
Skin or muscle sensitivity in patients with inadequate tissue coverage at the operative site, which may result in skin breakdown and or wound complications.
Non-union or delayed union.
Infection.
Nerve or vascular damage due to surgical trauma, including loss of neurological function, dural tears, radiculopathy, paralysis, and cerebral spinal fluid leakage.
Gastrointestinal, urological, and/or reproductive system compromise, including impotency, and or loss of consortium.
Pain or discomfort.
Bone loss due to re-sorption or stress shielding, or bone fracture, above or below the level of surgery.
Hemorrhage of blood vessels and/or hematomas.
Mal-alignment of anatomical structures including loss of proper spinal curvature, correction, reduction, and/or height.
Bursitis.
Bone graft donor site pain.
Inability to resume activities of normal daily living.
Death
NOTE: The 
Minit Posterior Cervical and Upper Thoracic Fixation System Surgical Guide should be carefully followed. It supplies important additional information on the proper usage of the implants and instruments.