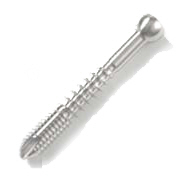 The Zimmer MotionLoc Screw is Zimmer Trauma's latest advancement in locking plate technology and is used in conjunction with the NCB® (Non-contact Bridging) Locking Plate System. The NCB® Polyaxial Locking Plate System is designed for temporary internal fixation and stabilization of fractures and osteotomies of long bones. Zimmer MotionLoctechnology can reduce the stiffness of locked plating constructs while retaining the construct's strength.1
Zimmer MotionLoc Technology provides:
Reduced stiffness of locked plating constructs, on average, by 80% while maintaining strength1
Parallel fracture gap micromotion
An internal, external fixator
Links
References:
1.      5.0mm Zimmer MotionLoc screws used for NCB® femoral plating construct.