Product Description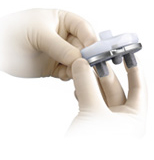 The Trabecular Metal Tibial Tray unites stable fixation with modular components to meet a growing demand for knees implanted through mini-arthrotomies. With mechanical properties similar to cancellous bone, Trabecular Metal Technology is designed to achieve stable initial fixation. The separate articulating surface is available in Prolong® Highly Crosslinked Polyethylene, which is specifically designed to reduce wear and delamination.* And the modular components work with the Zimmer® Minimally Invasive Solutions™ procedures.
*The results of in vitro wear and delamination tests have not been shown to correlate with clinical wear and delamination mechanisms.
Product Brochure
Indications
This device is indicated for patients with severe knee pain and disability due to:
Collagen disorders, and/or avascular necrosis of the femoral condyle
Post-traumatic loss of joint configuration, particularly when there is patellofemoral erosion, dysfunction or prior patellectomy
Moderate valgus, varus, or flexion deformities
The salvage of previously failed surgical attempts or for a knee in which satisfactory stability in flexion cannot be obtained at the time of surgery
NexGen Trabucelar Metal
 Tibial Trays may be used with or without bone cement (biological fixation)
Individualization of Treatment
Check the appropriate knee implant size-matching chart for component matching instructions. Mismatching may result in poor surface contact and could produce pain, decrease wear resistance, produce instability of the implant, or otherwise reduce implant life. Use only instruments and provisionals specifically designed for use with these devices to help ensure accurate surgical implantation, soft-tissue balancing, and evaluation of knee function.
Contraindications
Contraindications include:
Previous history of infection in the affected joint and/or local/systemic infection that may affect the prosthetic joint
Insufficient bone stock on the tibial surface
Skeletal immaturity
Neuropathic arthropathy
Osteoporosis or any loss of musculature or neuromuscular disease that compromises the affected limb
A stable, painless arthrodesis in a satisfactory functional position
Severe instability secondary to the absence of collateral ligament integrity
Total knee arthroplasty is contraindicated in patients who have rheumatoid arthritis (RA) and an ulcer of the skin or a history of recurrent breakdown of the skin because their risk of postoperative infection is greater. RA patients using steroids may also have increased risk of infection. Late infections in RA patients have been reported 24+ months postoperative.