Product Description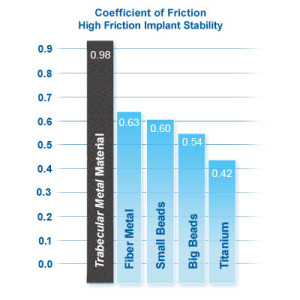 The Zimmer Trabecular Metal Humeral Stem addresses key surgeon needs and is optimized for the patient's anatomy.
The Zimmer Trabecular Metal Humeral Stem provides initial stability and is designed to provide long-term fixation,1 enabling the healing of challenging fracture cases. Trabecular MetalMaterial supports biologic ingrowth to facilitate healing by enhancing vascularization and more normal bone remodeling.2,3
The Trabecular Metal™ Technology construct provides better friction against bone when compared to alternative technologies, which increases implant stability.1,2
Product Brochure
References
Zhang, Y., et al., Interfacial Frictional Behavior: Cancellous Bone, Cortical Bone, and a Novel Porous Tantalum Biomaterial, Journal of Musculoskeletal Research, Vol. 3, No. 4: 245-251,1999.
Levine, B., et al., A New Era in Porous Metals: Applications in Orthopaedics, Advanced Engineering Materials, Vol 10 No 9, page 788-792, 2008.
Bobyn JD, Hacking SA, Chan SP, et al., Characterization of new porous tantalum biomaterial for reconstructive orthopaedics. Scientific Exhibition: 66th Annual Meeting of the American Academy of Orthopaedic Surgeons; 1999; Anaheim, CA.