Product Description
The integration of Trabecular Metal Material and modularity into a proven implant design provides a wide variety of shell and liner options to address specific patient needs.
The elliptical shape of the cup creates an interference fit with the spherically reamed acetabulum. From the pole of the dome, the interference fit increases until a 2-mm differential is achieved at the face of the cup. This maximizes bone contact and enhances initial stability.
A proprietary locking mechanism helps prevent dislocation of the liner from the shell, yet allows easy disassembly without damaging the liner. Liner security is complemented by antirotational tabs, and micromotion is minimized by full congruency between the liner and shell.1
Combining the Trilogy® Acetabular System design with the proven benefits and biologic in-growth potential of Trabecular Metal Material presents a unique option for total hip arthroplasty.
Trabecular Metal shell configurations include Non-holed, Cluster-holed, and Multi-holed. These shells can be used with any of the Trilogy Acetabular Liners.
Acetabular liners are available in Longevity® Cross-linked Polyethylene.
References
Doehring T.C.,Saigal S., Shanbag A.S., Rubash H.E. Micromotion of acetabluar liners: Measurements comparing the effectiveness of locking mechanisms. Orthopaedic Research Society, 42nd Annual Meeting, 1996.
Cleaning Instructions
This device is provided sterile by gamma irradiation as indicated by the <Sterile | R> symbol on the labeling. It remains sterile as long as the package integrity has not been violated. Inspect each package prior to use and do not use the component if any seal or cavity is damaged or breached or if the expiration date has been exceeded. Once opened, the component must be used or discarded.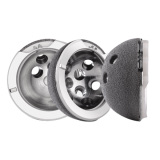 Indications
This device is indicated for primary or revision surgery for rehabilitating hips damaged as a result of noninflammatory degenerative joint disease (NIDJD) or its composite diagnoses of osteoarthritis, avascular necrosis, protrusio acetabuli, traumatic arthritis, slipped capital epiphysis, fused hip, fracture of the pelvis, and diastrophic variant. This device is intended for either cemented or noncemented use.
Contraindications
Contraindications include osteoradionecrosis, skeletal immaturity, any neuromuscular disease in the affected limb, and systemic or local infection.