The Functional Fit
The ITST Intramedullary Nail System is designed to treat unstable, comminuted, proximal fractures of the femur, specifically, the intertrochanteric and subtrochanteric regions. The ITST design is truly versatile in offering the combined features of intramedullary nail and hip screw systems.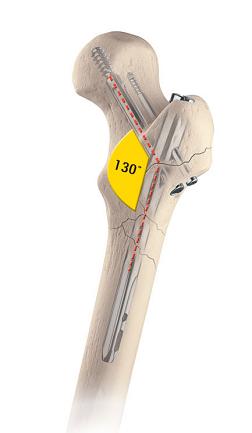 Natural Proximal Geometry
Construct is a high strength stainless steel alloy, 22-13-5, which allows the implant more design freedom, while maintaining adequate implant strength.
Proximal geometry features a bone conserving diameter of 16.5mm.
Accommodates an 11mm Lag Screw, providing a high level of proximal bone-implant interface.
The height of the proximal nail diameter combined with a short transition region allows for easy insertion of the Lag Screw across the femoral neck, without the concern of the nail sitting too proud or too deep in the bone.
True Anatomic Design
Proximal design features an anatomic 5° Lateral Bend, which allows for the less invasive trochanteric starting point to be utilized.
Inserted into the femoral head at 130°, the most common angle used in gliding nails.
15° anteversion of the proximal holes for easier passage of the nail down the femoral canal, and simpler distal freehand targeting.
Range of distal diameters accommodates anatomic fit.