In collaboration with leading traumatologists, Zimmer designed a titanium nail system incorporating a natural anatomic design for femoral and tibial fractures.  The advantages of this innovative approach include:  the ability to treat different sizes of patients, minimally invasive implantation, and easy insertion.
The Sirus® Nail System is designed for reamed and unreamed intramedullary femoral and tibial surgical techniques.  Femoral and tibial instrumentation is provided in a single, easily accessible tray.
Femoral Nails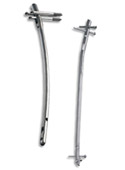 While many Intramedullary nails come in different sizes and have an anterior bow, Zimmer's  anterior bow has a radius proportional to the length of the nail.  The Sirus Femoral Nail mimics the natural bone contour, minimizing the risk of insertion-related complications.
The nail's optimized anatomical share – with antecurvature and lateralization – allows easy insertion through the tip of the greater trochanter.
Tibial Nails
A 4° anterior bend¹ in the distal portion of the Sirus Tibial Nail helps ease insertion and assists the surgeon in the placement of interlocking screws in order to stabilize a variety of metaphyseal fracture patterns near the joint.
The runner-shaped tip allows the implant to slide freely along the posterior cortex of the canal to facilitate nail insertion using a reamed or unreamed technique.
The proximal curvature of the nail as well as the alignment, position, and locking options of the proximal multi-planar locking holes helps in treatment of complicated fractures.
Instrumentation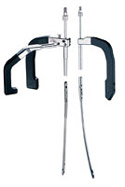 Sirus Nail Instruments are designed and engineered for precision and reliability.  Femoral and tibial instruments are concisely housed in one instrument tray.
Notes
The anterior bend in the distal portion of the tibial nail varies depending on the length of the nail.  The average bend is about 4°