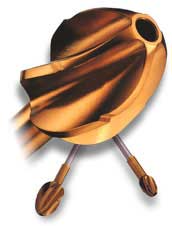 Through applied research and extensive testing, the Pressure Sentinel Reamer was designed to maximize the efficiency of the cutting head, and facilitate the flow and dispersion of the medullary contents.
The Pressure Sentinel Reamer features a short cutting head with deep flutes and sharp edges to cut quickly through the medullary canal. In addition, the shape of the flutes is optimal for channeling the medullary contents past the reamer head and into the wide annulus made possible by the narrow shaft of the reamer.
The Pressure Sentinel Reamer is available in four sets — full, Trauma, Basic Hip, and Expanded Hip. The complete range of reamer sizes, in .5 millimeter increments, from 5mm to 24.5mm in diameter, is also available for individual purchase.
Please refer to the package inserts for complete product information, including contraindications, warnings, precautions, and adverse effects.