Product Description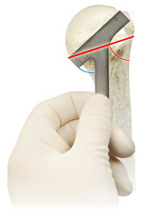 The Trabecular Metal Reverse Shoulder System gives surgeons the ability to return cuff tear arthroplasty patients to the simple activities of daily living. The Trabecular Metal base plate provides superior glenoid stability1 while the 60 degree humeral components reduces the likelihood of scapular notching.2,3
Product Brochure
White Papers
Video
Product Compatibility
The Anatomical Shoulder Inverse/Reverse Base Plate is compatible with the Trabecular Metal Reverse Stem.
References
Parsons BO, et al. Optimal rotation and screw positioning for initial glenosphere baseplate fixation in reverse shoulder arthroplasty. JBJS Br. 2009; 1-6.
Nicholson GP, Murthi AM, Trabecular Metal Reverse Shoulder Arthroplasty and the Lack of Scapular Notching. ASES 2009 Open Meeting, Session IV, Paper #27; Las Vegas, NV.
Levigne C, et al. Scapular notching in reverse shoulder arthroplasty. JSES 2008; Volume 17, Issue 6: 925-935.